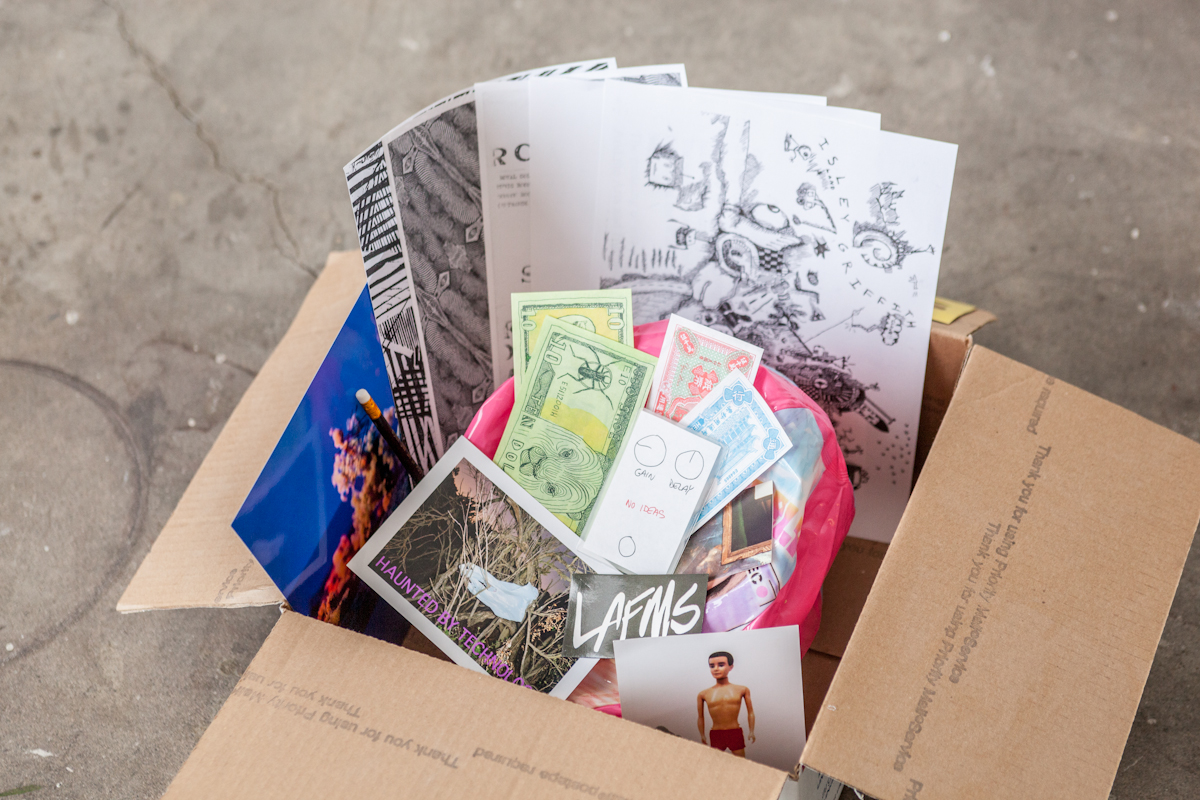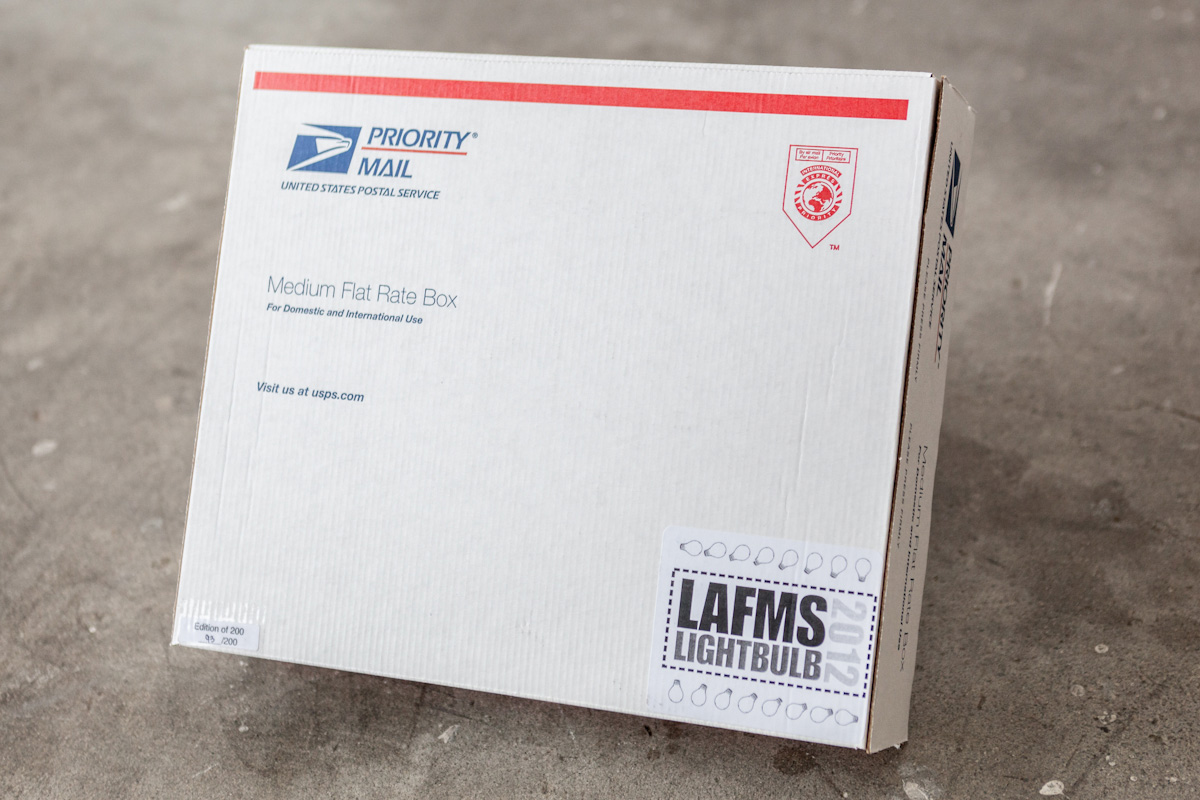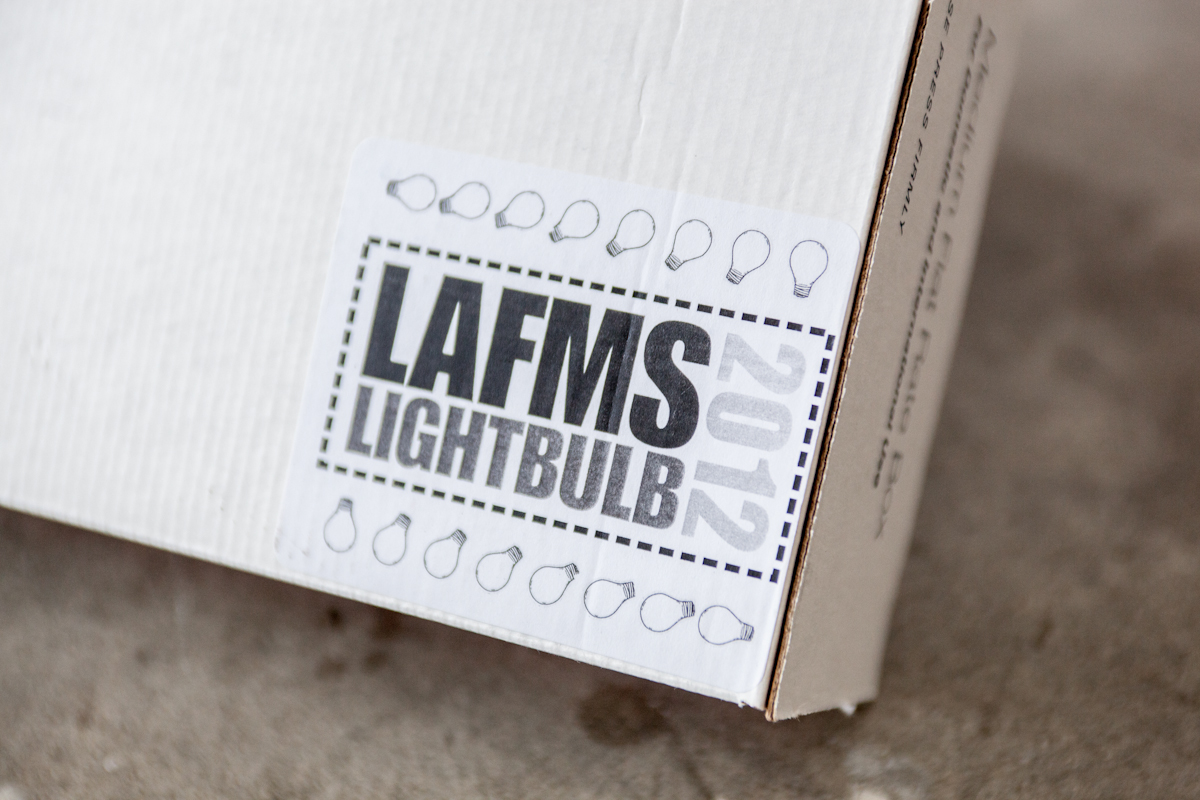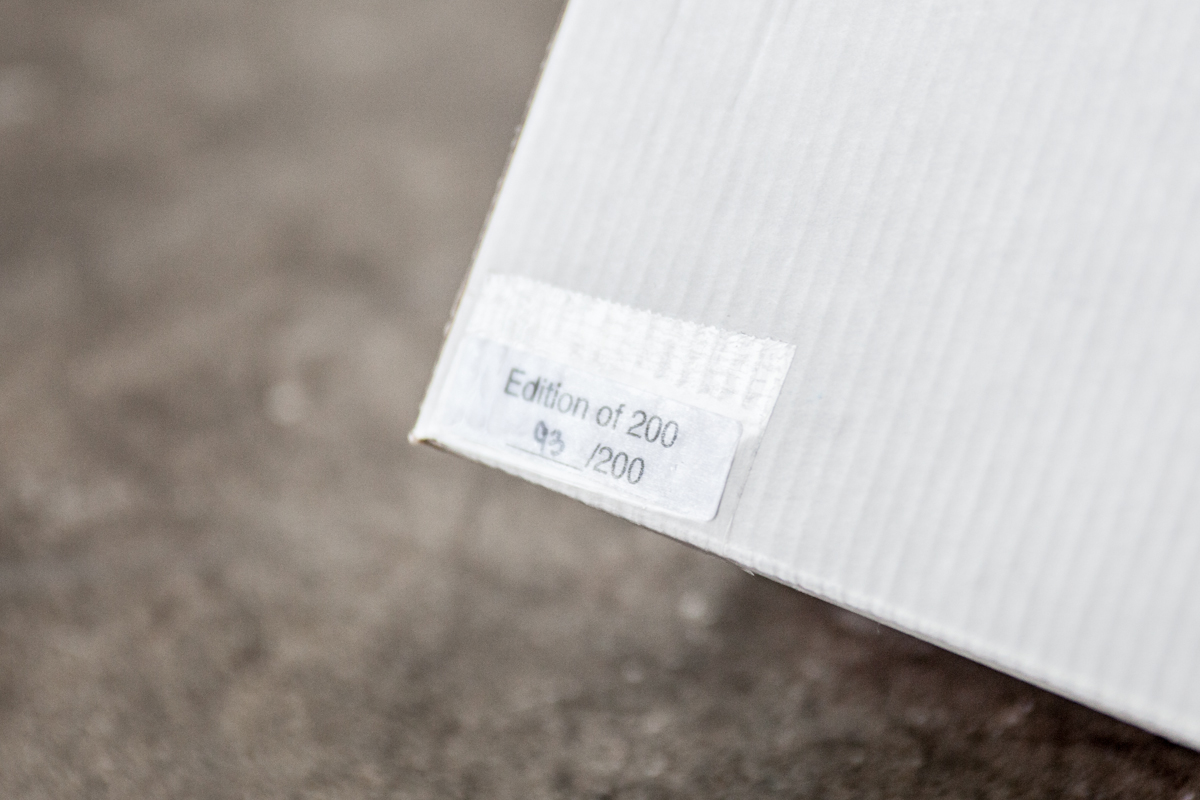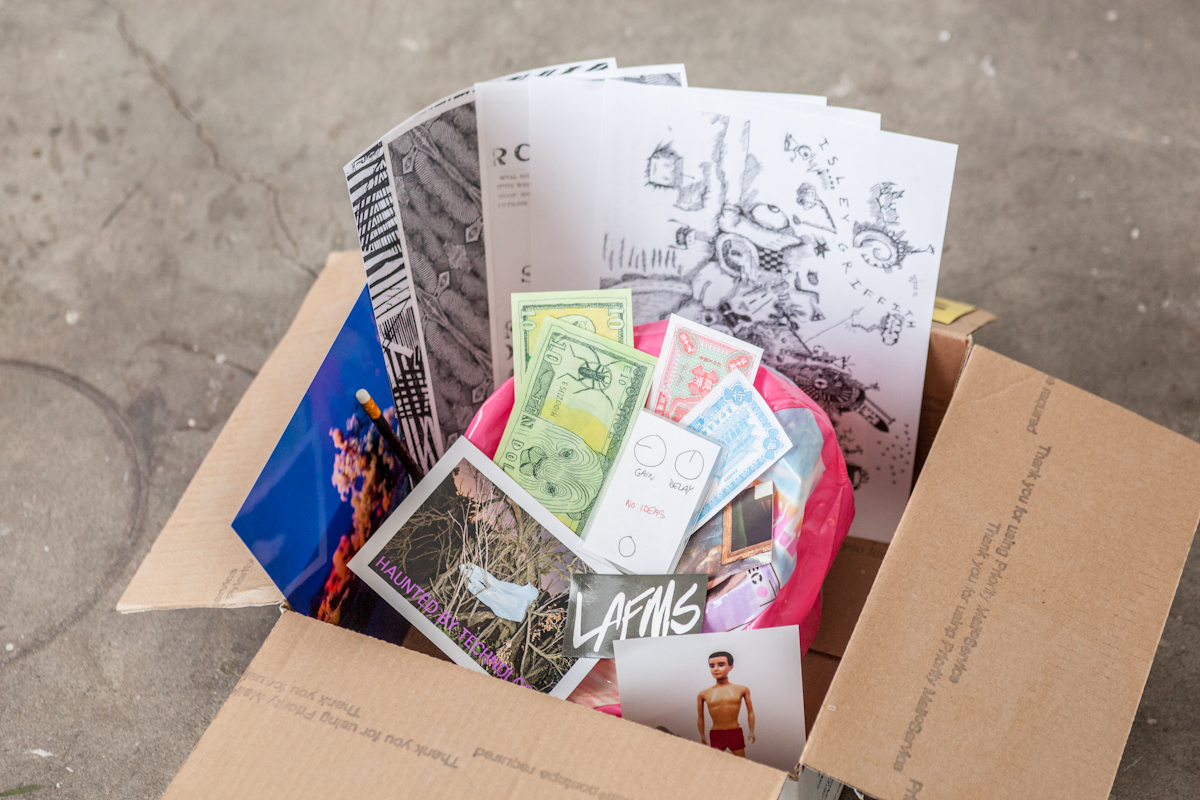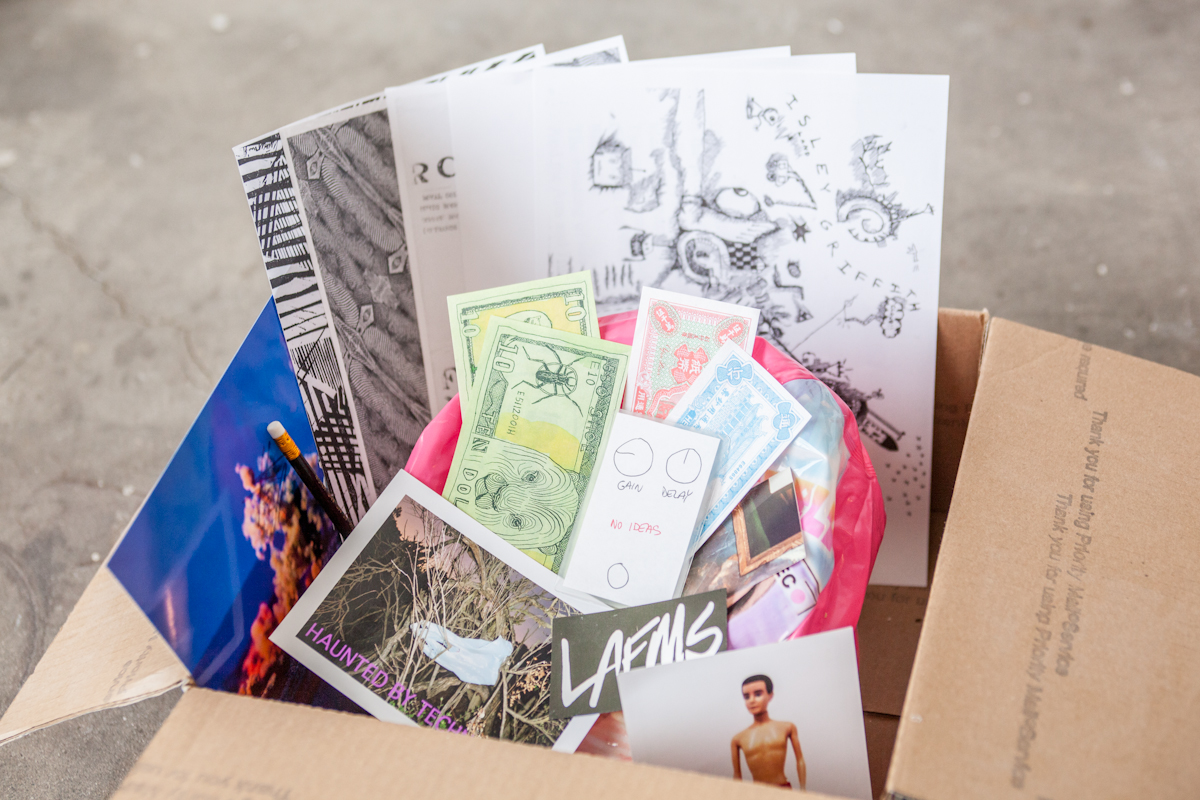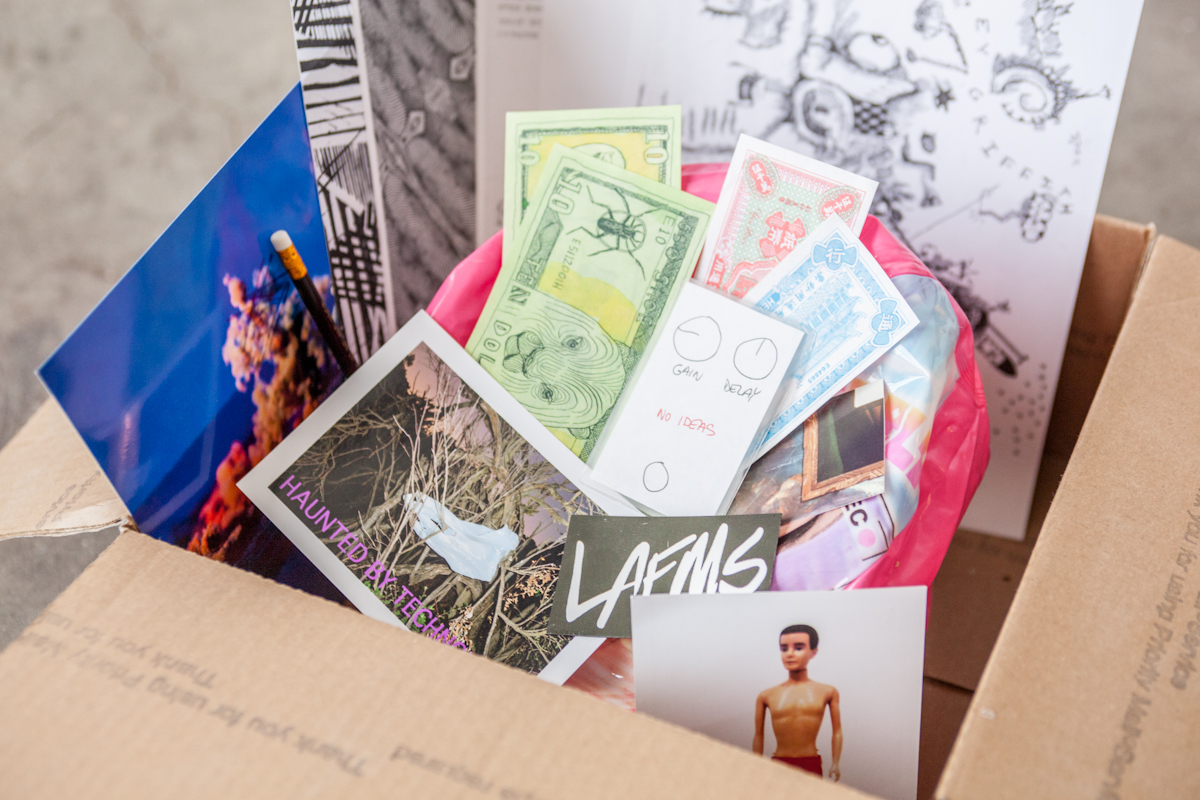 LAFMS
2012, 1st edition
Edition of 200

LAFMS Lightbulb 2012
Lightbulb issue compiled to accompany the exhibition Beneath the Valley of the Lowest Form of Music, 14 January 25 - February, 2012
To commemorate the exhibition Beneath the Valley of the Lowest Form of Music (2012) at The Box as part of Pacific Standard Time, the Los Angeles Free Music Society (LAFMS) has reprised Lightbulb in a limited edition of 200, with only 100 publicaly released for purchase.
The project initially started when contributors were invited to send in a prescribed number of copies of an "otherwise unpublishable," to use Kostelanetz's term, work that was self-referential to the contributors. The collected copies were subsequently collated, bound, and distributed solely to collaborators under the title Lightbulb. Between 1977 and 1981, various LAFMS members continued the process with an additional six issues of the collaborative magazine. While throughout its run there was little consistency in the material qualities of the magazine, each additional issues of Lightbulb had a central theme: "Back to School", "Thanksgiving", "Christmas", "Halloween", etc.
Contributions to this issue include over 80 works by a diverse collection of both emerging and established visual and sound artists: Paul McCarthy, T. Kelly Mason, Renee Petropoulos, Brits David Toop, Dylan Nyoukis, and Berliner Moritz ® are but a few inclusions. Additionally, Lightbulb 2012 contains a final work by Mike Kelley: Pot Drawing to 'Lonely World' by Dion and the Belmonts. Also included in Lightbulb 2012 is a faithful reissue of "The Emergency Cassette - Volumes 1 & 2" a double cassette released in 1981 featured in Lightbulb #4. The cassettes contain the first releases by the many bands that comprised the nascent Los Angeles and national experimental and punk scene including 45 Grave, a "punk super-group" featuring members of legendary bands The Germs, The Bags and The Consumers. The tapes also feature the first release by the Meat Puppets, the Arizona post-Punk trio that both inspired and performed with Nirvana.
Lightbulb 2012 Contributors list:
Tim Alexander - Los Angeles-based artist, musician and composer; member of Points of Friction
Skylaire Alfvegren - Los Angeles-based author and artist
Skot Armstrong - Artist, performance artist, musician and author; founder of Science Holiday
Suzy Beal - Musician and author
Scott Benzel - Visual artist, composer, and producer
Cindy Bernard - Los Angeles-based artist and filmmaker
Michael Bianco - Marfa, Texas based artist and curator
Chip Chapman - Musician and composer; founding member of the LAFMS
Susan Farthing Chapman - Artist and musician; founding member the LAFMS
Kate Costello - Los Angeles-based artist
Tony Coulter - Musician and WFMU New Jersey radio personality
Anla Courtis - Argentina born experimental composer and musician
Katy Crow - Los Angeles-based Abstract painter and filmmaker
Dorit Cypis - Los Angeles-based performance and installation artist
Danielle de Picciotto - Berlin based artist, musician, and filmmaker
Dead_Triplet - Artist
Maya deLeon - Los Angeles-based artist and choreographer
Valenta deRegil - San Francisco Bay Area artist
Dennis Duck - Composer and musician; founding member of the LAFMS
John Duncan - Composer, musician, artist, and filmmaker based in Bologna, Italy; early LAFMS collaborator
Jad Fair - Artist, composer, and musician; co-founder of the group Half-Japanese
Devin Flynn - Brooklyn based musician and composer
Ace Farren Ford - Musician, artist, and tattoo artist; founding member of the LAFMS
Rick Frystak - Musician, composer, and record connoisseur
Sara Geens - Belgium-based musician
Kimberly Gibson - Los Angeles-based visual artist
Kraig Grady - Los Angeles/Australian composer and sound artist
Gregory Griffith - Los Angeles-based musician and manager of Amoeba Records, Hollywood
Henry Yuki Minato Griffith - family member of Gregory Griffith
Isley Tennessee Minato Griffith - family member of Gregory Griffith
Danny Gromfin - LAFMS manager and webmaster
John Gullak - San Francisco Bay Area based artist, musician and publisher
Doug Harvey - Los Angeles-based artist, musician, composer, writer, and art critic
Gordon Henderson - Los Angeles-based artist and performer
Doug Henry - Los Angeles-based artist, musician and filmmaker
Mike Kelley - Los Angeles-based artist, performance artist, musician, and filmmaker
Kryttre - Los Angeles-based artist, underground cartoonist, animator, and performance artist
Kevin Laffey - Los Angeles-based musician and music producer
Wild Don Lewis - Los Angeles-based photographer and sound artist
Kayo Makino - Tokyo, Japan based artist
Lasse Marhaug - Norwegian noise musician
Daniel Marlos - Los Angeles-based artist and photographer
T. Kelly Mason - Los Angeles-based artist
Paul McCarthy - Los Angeles-based artist and musician
Fiendish McTavish - Norwegian-American noisemaker
Aaron Moore - New York-based British musician; member of Volcano The Bear
Alan Nakagawa - Los Angeles-based artist and musician
Fredrik Nilsen - Los Angeles-based artist, photographer and musician; founding member of the LAFMS
Bill Noland - Seattle based musician, composer, and producer
Dylan Nyoukis - British experimental musician
Renee Petropoulos - Los Angeles-based painter and multi-media artist
Rick Potts - Los Angeles-based artist, composer, musician, animator, filmmaker, founding member of the LAFMS
Joe Potts - Los Angeles-based artist, composer, musician, and filmmaker; founding member of the LAFMS
Tom Potts - Montana based writer and musician; founding member of the LAFMS
Moritz ® - Berlin based artist, musician and composer; member of Der Plan
Carla Rajnus - Portland based artist and therapist
Tom Recchion - Los Angeles-based sound and visual artist, composer, art director and graphic designer; founding member of the LAFMS
Reizen - Japanese musician from Kanagawa prefecture
Lynn Robb - Los Angeles-based art educator and visual artist
Brett Cody Rogers - Los Angeles-based artist
Jonathon Rosen - New York-based artist and filmmaker
Takuya Sakaguchi - Osaka based neuroscientist, artist, music critic and early LAFMS supporter
Lynn Salmon - New York-based environmental scientist
Paul Sanoian - Los Angeles-based musician and music business attorney
David Schafer - American visual artist based in New York
Harold Schroeder - Pismo Beach musician and founding member of the LAFMS
Jamie Seaboch - New York-based artist
Jim Sharpe - Brooklyn DJ, filmmaker and record shop proprietor
Ning Nong – Brooklyn DJ, musician, and music industry veteran
LeRoy Stevens - Los Angeles-based based artist
Rock and Roll Jackie - Portland based musician and member of Smegma; LAFMS member
Ju Suk Reet Meate - Portland based musician and member of Smegma; founding LAFMS member
Ricky Swallow - Los Angeles-based Australian artist
Andy Sykora - Los Angeles-based sound artist
Mayo Thompson - Musician, record producer, and visual artist; member of Red Crayola
Gary Todd Sylvester - Music producer and archivist
David Toop - British musician, educator, and author
Topo - Topo Art Los Angeles
Michael Uhlenkott - LA artist and musician, and co-founder of World Imitation Products art collective; member of Monitor
Keith Ullrich - Los Angeles-based visual and sound artist
Jason Underhill - Los Angeles-based artist and filmmaker
Wouter Vanhaelemeesch - Belgian artist and record label owner
Vetza - Los Angeles-based musician, actor and playwright; core LAFMS member
Kira Vollman- Los Angeles-based artist and musician
Jan Walaker - Oslo, Norway based artist, photographer, and publisher
Marc Weinstein - San Francisco Bay area musician and co-founder of Amoeba Records
Daniel Weiss - Musician and writer
John Wiese - Los Angeles-based musician, composer, and record label owner
$100.00